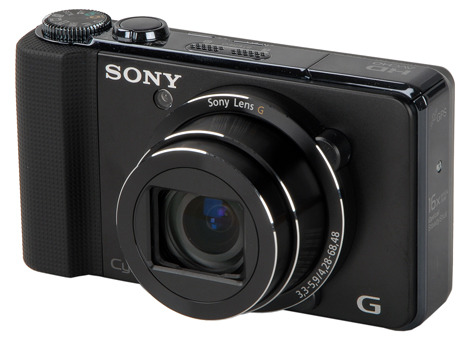 Sony is out for blood with their HX9V, a relatively expensive, high performance travel zoom that aims to be nothing less than the best camera in the category. Optical zoom has been upgraded to 16x, and it's likely Sony stuck with the same 16 megapixel sensor that powers their excellent HX100V, as well as this camera's predecessor, the HX7V.
All of the HX9V's resolution scores are equal or better than the models in our comparison group, this comes at a price though. Harsh haloing and edge enhancement sometimes make corners and geometry ugly and unappealing, even though test scores are high.
Some effort has been invested in physical handling of this camera's body, the results are hit or miss. A raised and rubberized hand grip wraps around the right side of the front panel and half of the right panel. We like this, but the raised portion is too skinny to grip comfortably with an adult-sized hand.